Memorable Mundane™
Turning everyday moments in to beautiful captured memories.
A guide to taking better portraits of your children.
Hi! I'm Anaise, and that lovely little lady you see is Emerson.
Emerson is an active, determined, intelligent, stubborn and very silly two year old, and I can't get enough of taking her picture. That's not to say that it's always easy getting a good shot. For the longest time, she didn't like having her picture taken, and would often frown or look away. In those moments I gave her space, but in others instances I had to be sneaky with my efforts, and often provide some type of bribe for her cooperation. Tip: always have snacks on hand.
In this guide I'll teach you my tips, tricks and techniques to authentically document your child's life, while getting the best images, 99% of the time.
It's time to start taking photos with intention and mindfulness. I want you to ask yourself these questions when taking portraits of your children, to ensure that they are the best representation of that precious child you love so dearly.
1. Is the photo in focus, or is it blurry? If it's at all blurry (and it's not an action shot), then toss it. You can do better. If you are consistently getting foggy or blurry photos, give your camera a little wipe.
2. Is it dark? Can you see your child's face clearly? If the image is dark and you can barely make out the features, toss it. If you can't see them, what's the point? (Unless you're taking a silhouette or dramatic lighting photo)
3. Are they making a ridiculous face that only a mother could love? (Be honest with yourself.) If the answer is yes, let it go. LET IT GOOO.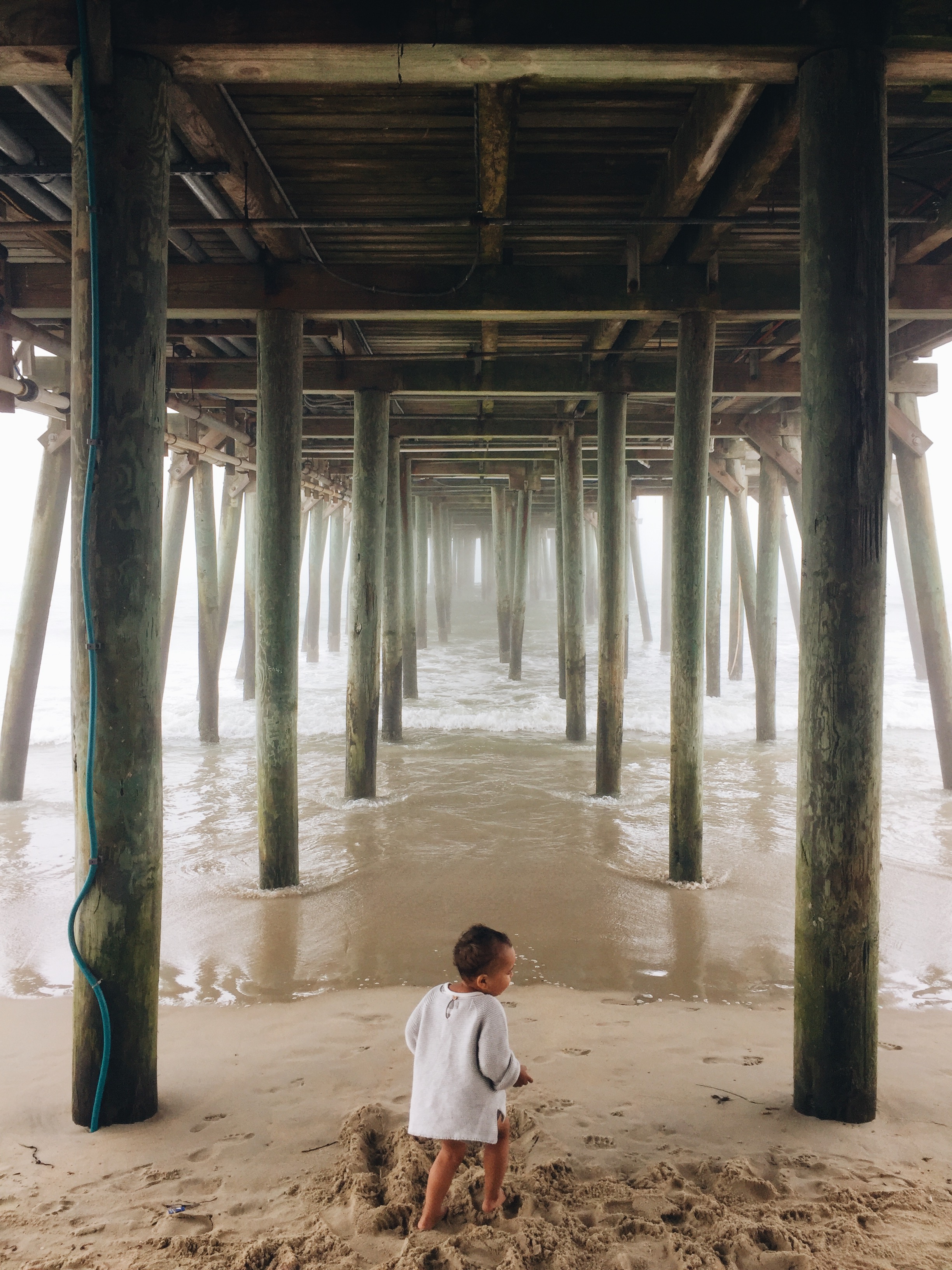 As you can see by all of the footprints, she was running around a significant amount, so I just let her do her thing until she was perfectly centered, and then I snapped a few photos until I achieved the look I was going for.
The bed isn't made, so instead of capturing the entire scene, I composed so that I would only get a tiny corner of the bed and my subjects.
My first rule of kid photography 101 - be mindful of the scenario that surrounds you. Frame and compose your image so that your little is at the forefront. They don't have to be against a fancy backdrop or blank wall, but frame them in a way that creates a beautiful, authentic memory, yet looks thoughtful and intentional as well. There's nothing wrong with staging your photo either. I like to call it setting the scene. Choose a space for them to be in, and let them move within that space freely.
Change your perspective from time to time.
Give them space
We don't always have to be up close and personal to get a good shot. Step back from the scene and give them space, your little one will love the independence.
They can't all be your favorite photo
It's fair to say that we love all of the images we take of our children, good or bad...but when choosing to share these images, be sure to choose images that you'd be proud enough to display on your walls at home. I take multiple shots at a time, but only choose to save and share the ones that really make me proud, the ones that truly capture her personality and give me feeling.
...because what's more precious than a sleeping baby? NOTHING.
Print your photos
When deciding on which images to keep and share, I always consider what would look best in print. I take hundreds of photos, and can't imagine keeping them all to myself tucked in my phone gallery, so I print photo books to keep my images organized. Emerson loves looking through the photo books, and I am so happy to have these memories in print.
Distractions & Messes
Be aware of the distractions / messes that are inevitably surrounding you and your child. All kids make messes, but before you decide to capture them in that sweet moment, be conscious of what surrounds you (including the messes that they create on themselves). You don't want to take away from that precious little face, do you?
To eliminate distractions, consider changing your position even just a little bit. A slight shift to the left or right can make a big difference. If a shift doesn't work, maybe it's time to put away those toys and that pile of laundry.
Embrace the movement
Kids are always on the move, so instead of halting their activities for a photo, use their movements to your advantage. They don't always have to be looking at the camera for the image to be great. Let them run loose and be kids, and embrace what makes them unique.
Find The Light
Good light is key to a good photo. Whether it be direct or dramatic (artistic) good lighting determines whether or not a photo is a good one.
Natural light is a bit harsh during the day, so when photographing outside, look for shaded areas. Shaded areas provide softer light which is ideal for illuminating your little.
Be Patient
There are quite a few outtakes before you get the perfect photo. Be patient and trust the process. Let them play, and play along with them, and when the moment arises where you can step back and witness the magic that is childhood, that's when you snap your images. Let them be young and free, and prepare yourself for the beauty that will soon unfold in front of your eyes. Sometimes you'll miss a moment and that's okay, there will be more. Be patient, but most of all, stay present.
Get in the photo!
As moms we always tend to be behind the scenes, but I can't stress enough how important it is for us to get in the photo as well. As much as I would love for my husband to naturally capture moments for us the way I do with him, it's just not going to happen. Instead of dwelling on it, or always asking him for a photo, I typically take them myself on a whim when I feel the moment is right.
Editing your images
I always use an editing software to enhance the brightness and contrast of my images. I like to keep them consistent for printing and social media purposes. There are a lot of different great apps that can help you achieve the look you're going for and not the typical washed out blurry filters that are provided by Instagram. Choose a style that works best for you and stick with it. It's amazing what a little editing can do for your photos.
VSCO Cam
Snapseed
Afterlight
Mextures
Thank you so much for your interest in my guide!
I hope to see you at the meet up.